Director Alica Bednáriková, whose film Liquid Bread (2021) was featured in the La Cinef Selection of student films at the Cannes festival this year, describes her experience of participating in the festival for Kinečko.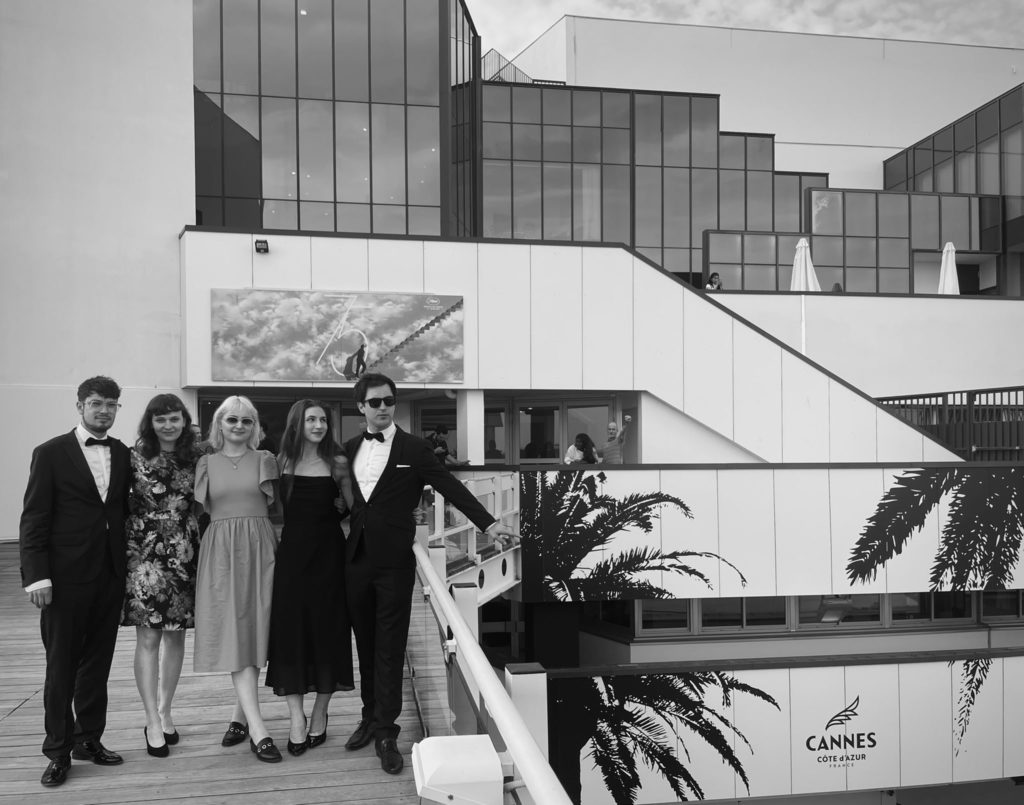 My stay in Cannes started completely differently than I imagined. I arrived before my film crew and spent the first two hours at the reception of a hotel full of Americans, waiting for my room key (this was preceded by an airport pick-up by a Cannes delegate and a journey in a festival car with my own driver, so it was quite a funny reality check). I was running late for the first meeting and everything that followed was very chaotic and fast – after all, this was the spirit of the enitre festival. In the best sense of the word.
I did not manage to get to the room, so I just left my luggage at the reception and ran to catch the bus to the welcome meeting with other film directors of the La Cinef Selection.
At the meeting, they gave us all the practical information and told us how to sign up for the online ticket service, which has been down for the last four days, and when and where we meet before the screenings. Afterwards we were given some time and space to get to know each other.
In the evening I finally reunited with my film crew and we managed to book tickets for the premiere of David Cronenberg's new film Crimes of the Future. Of course, festival manners were completely new to us, so everything could only take us by surprise. In order to get to the premiere we followed a strict dress code – tuxedos for men and long dresses with high heels for women.
After a swift walk down the red carpet, we found a place to sit and waited for the remaining cream of society to arrive. Meanwhile, the live footage from the red carpet was screened, where the entire cast appeared, including Viggo Mortensen, Léa Seydoux, Kristen Stewart and, of course, David Cronenberg.
We watched the movie that left us perplexed enough. Cronenberg announced a mass walkout, which I can confirm did not happen. The film is full of subtle gore in a fabricated world where pain does not exist. Performance art of cutting into bodies and nothing more. Characters only have one goal, one intention, one good and one bad quality, one layer. A plot appears here and there, and then it disappears immediately. But it was definitely a spectacle.
Overexposed after the film, we were finally able to all meet and enjoy the first evening in Cannes.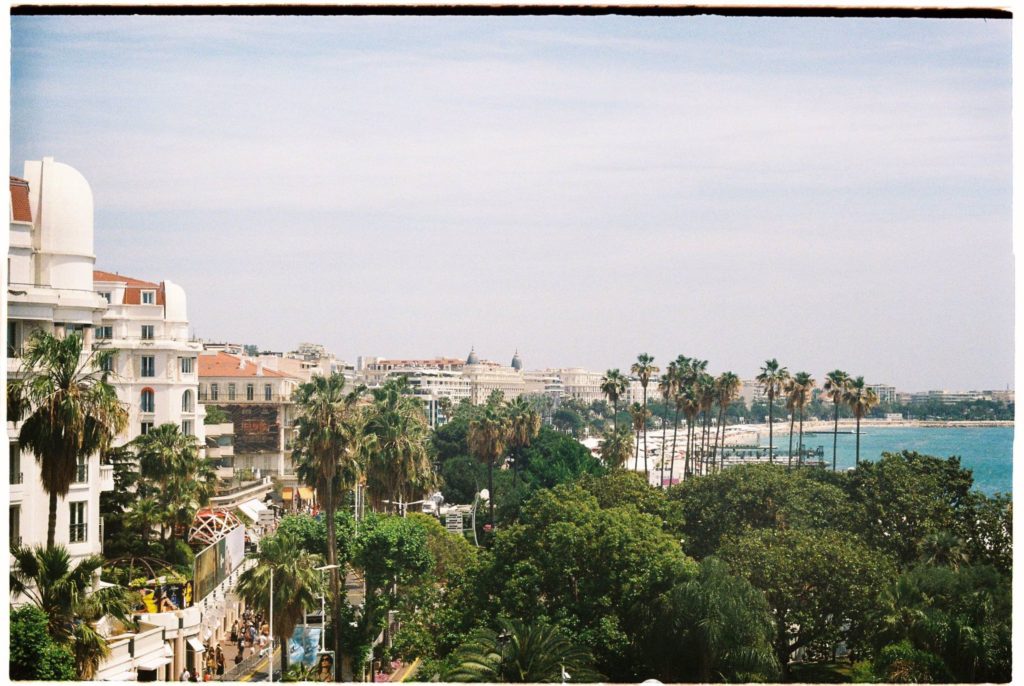 (2.)
The next day was followed by duties. Morning meeting at La Cinef office and photo shoot of all directors from the selection on the red carpet. Here I had the opportunity to get to know others more and establish better contact, and it turned out that we have something to talk about. After all, we are probably all troubled by similar things, and with the film we try to point out something, express how we feel. And while the spirit of competition was in the air, here and there there was an opportunity for honest conversation, even if only about how surreal this whole experience is.
On the way to the toilet, I met Kristen Stewart, who was just leaving a press conference, saying God, it is so hot in here.
I think.
The press conference for the aforementioned Cronenberg film had just ended and all the actors, actresses and the director were just pouring out surrounded by the waiting crowd. And somehow it started to dawn on me – it's all really happening here. And often all at once.
On the lower floor of the festival palace was the huge Marché du Film fair, on each floor there were cinemas showing films that had just premiered or recently premiered, and outside was the Festival Village, where each country had its own stand with a small presentation of contemporary work.
It was beautifully deafening, I can't sum it up otherwise. That was on my mind until the end of the festival. It is a great success to be part of La Cinef, but in the whole scale of Cannes, it is still only the student section and we are small fish in that pond that is constantly being washed away.
In the Festival Village, we visited the Czech-Slovak stand, where we were greeted by the poster of our film and other promotional materials that we had been working on a week before, hoping that we would be able to deliver them to the festival. The screening of the first section of La Cinef, i.e. the first four films in our category was ahead of us, followed by the premiere of Louis Garrel's new film The Innocents (L ́ Innocent).
On the evening of the premiere, there was a truly uplifting atmosphere in the cinema hall, many famous people came to see the film (at one point before the screening, for reasons unknown to me, they all – Guillermo del Toro, Mads Mikkelsen, Jake Gyllenhaal – stood on stage and started singing together). The movie was exactly what we needed to see. It didn't take itself seriously, played with form, but remained consistent and, thank God, funny. Thanks, Louis.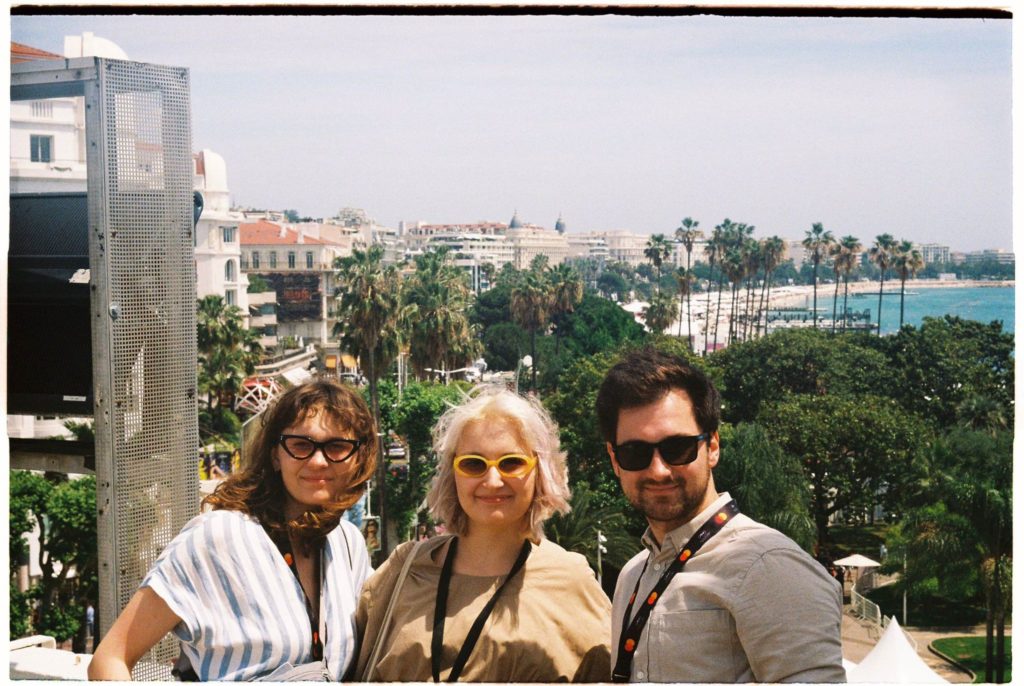 (3.)
The third day required a (way too) early wake-up call. At 8:20 we had an online morning TV news interview scheduled. We cleared up the corner of the hotel room, just wide enough to fit in the frame, and shared our feelings about the premiere that awaited us that day.
On day three we had already learned that getting to the festival during the day is more difficult than it seems. Traffic jams were everywhere, and the closer to the epicenter, the worse it got. The three of us confirmed an Uber pickup and waited at least an half an hour for a car to arrive.
That day we attended two blocks of student films, our film was in the second one.
Suddenly we were sitting there, next to me were members of my crew, director of photography Roman Šupej, co-screenwriter Diana Dzurillová, sound engineer Jaroslav Pešek and leading actress Patrícia Balajová. Lights went out, and they screened the movie. Instead of watching the movie, my mind was projecting the endless journey that preceded it; it lasted so awfully long and sometimes it really hurt. For me, filmmaking is a personal thing, which sometimes causes burnout. But maybe that's why I could really feel what it means that we're sitting here.
I cried, of course. Waterfalls pouring down my cheeks, it was horrible.
Fortunately, I wasn't the only one, so it was easier to cry.
I wanted people to know that we made the film out of love – the love I feel for that place and the love we all feel for the film. After the screening, when people came up to us and said all those beautiful things, I got the feeling that we managed to express it.
I will never forget that day. We spent it together, absolutely enthralled by what had just happened, and with a little bit of wine.
That was enough.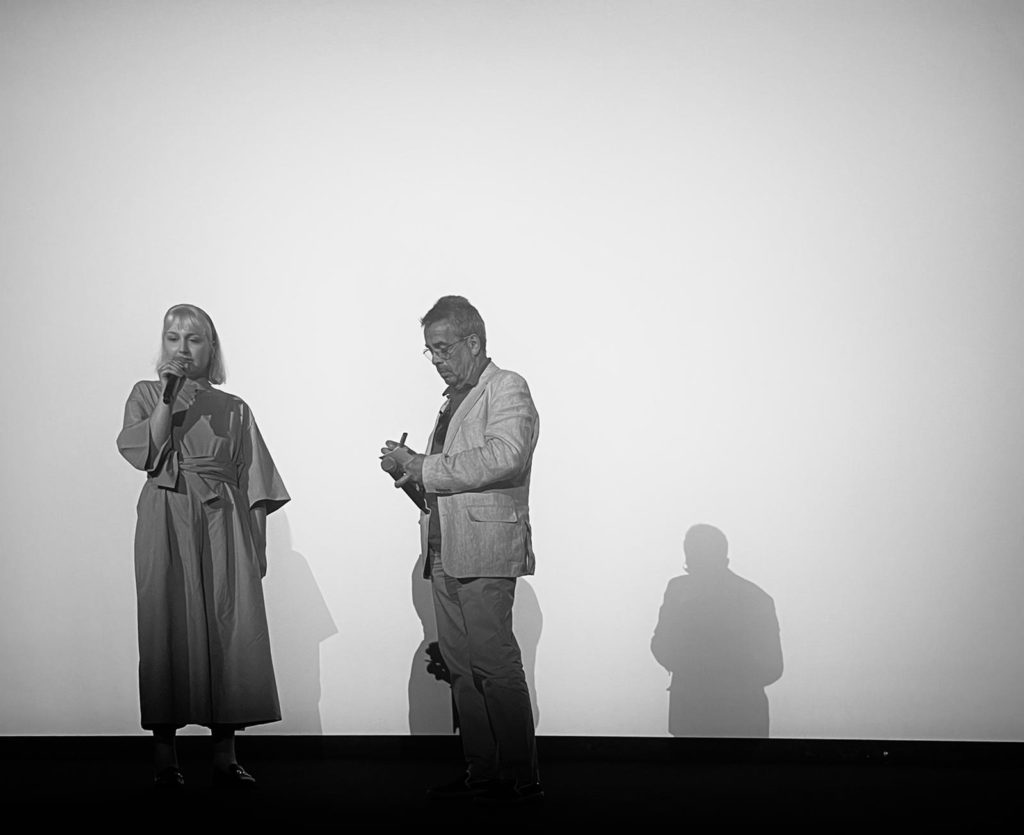 (4.)
On the fourth day I had a networking morning. I attended a breakfast where no food was served, in the company of representatives of festivals and distribution companies. Each of us received a list of important people that were present with a little introduction to what they or their company do. Based on that, we were able to sit down at their table and establish contact.
Despite the fact that I often have problems with "selling" and "pitching" ideas to strangers, it was a quite casual event. I gradually moved to less frequented tables and managed to talk more – or even find out that they already know about our film, and that really got me.
Networked from head to toe and suitably hungry, I went to the last screening of La Cinef.
After that, I had an interview with a Korean online platform for aspiring directors, which was one of the most pleasant up to that point, perhaps because they allowed me to keep my sunglasses on (and among other things, they asked relatively introspective questions and let me talk freely). We talked for a while and I was already on my way to Mads Mikkelsen. His masterclass was part of the "Rendez-vous avec a…" section with various people from the film industry, basically a free discussion about the film, about previous work with room for questions from the audience. That giving the audience a chance to ask questions isn't always the best idea was apparent when viewers in the audience started asking Mads for a beer after the discussion or asking why he's so attractive (although maybe we all do).
This was followed by the presentation of La Cinef awards. We left without a prize, but happy to have been a part of it and even happier with the response we received.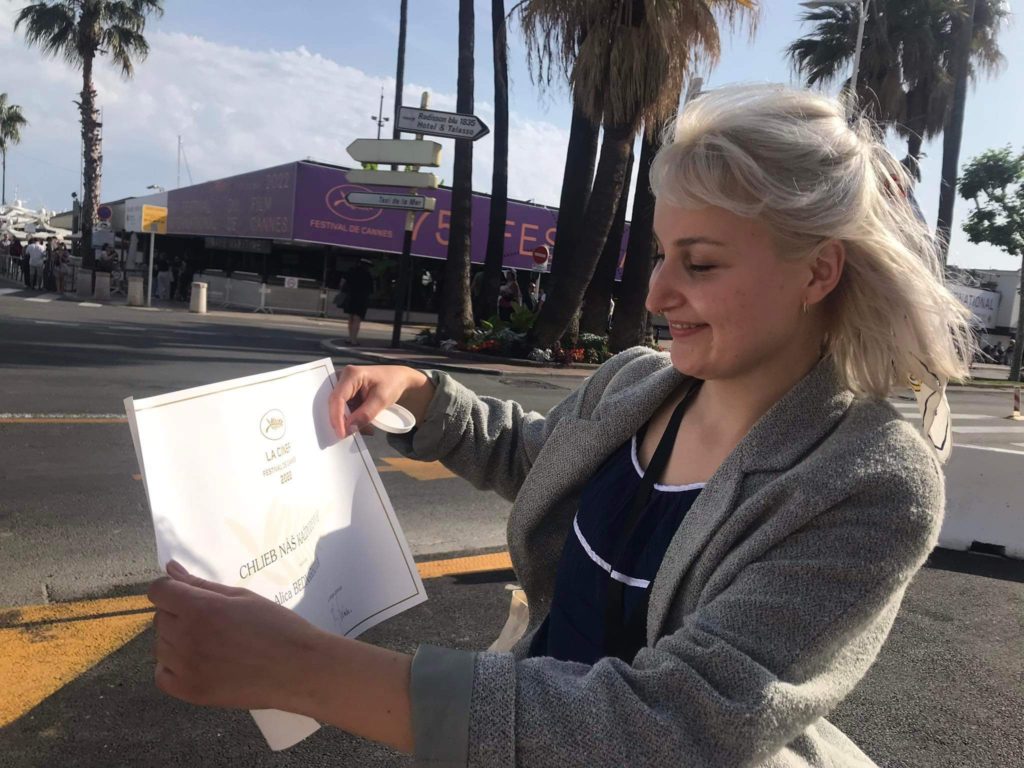 (5.)
Last day. Some of the staff left as our official program ended.
Diana and I were still waiting for a classy dinner organized by the L'Oréal called Lights on Women. But before that, another "Rendez-vous avec …", this time with Javier Bardem, who tackled much more personal topics and interacted with the audience with absolute familiarity. He greeted his favorite Spanish journalist who was sitting in the audience, and I think if someone invited him for a beer, chances are, he would casually say yes.
Kate Winslet, who also presented the award, had the patronage of the mentioned dinner that followed. It was an award for women behind the camera, and therefore evaluated the films in the La Cinef selection made by female directors. I like to imagine that a month before, Kate googled where Kesa was in some random hotel room in LA after watching our movie.
Surrounded by cutlery I don't know how to use and wine that suddenly disappeared from my table after Kate Winslet left the premises to signal that the dinner was over, I was able to enjoy my last moments together with Diana in Cannes, the capital of film (just me, Diana and the package of lipsticks from L'Oréal that we received from Kate). Walking back to the hotel barefoot, because five days in heels is five days in heels, and complaining that I didn't even have time to swim in the sea.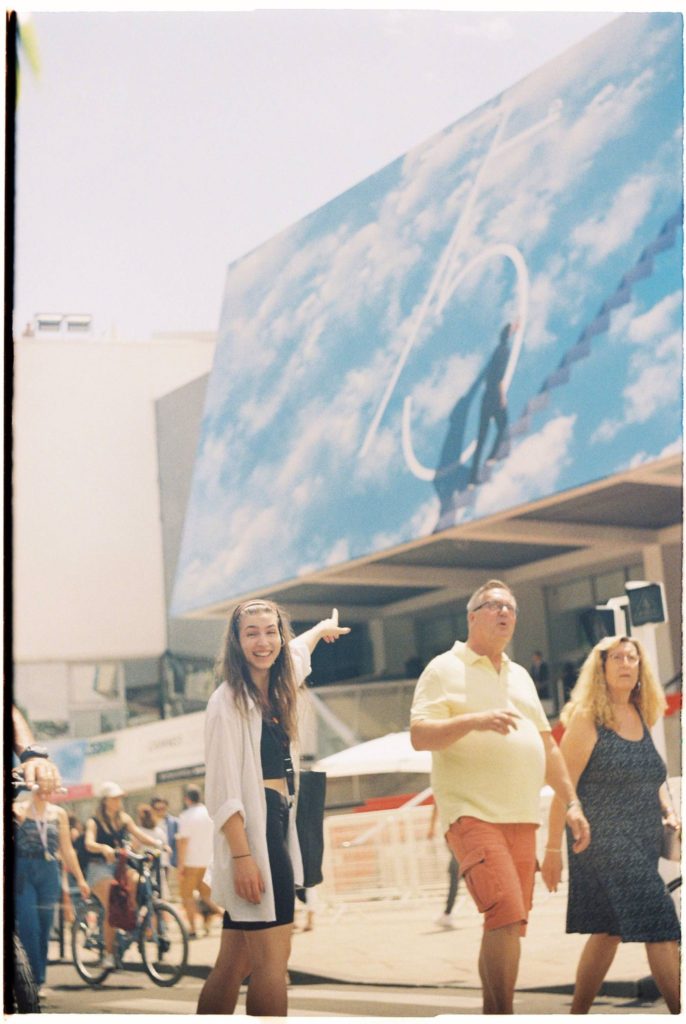 Thank you, Cannes. I also thank my staff, who survived the whole thing with me and even knew how to make fun of it, and Erika from the Festival Department of the Film and Television Faculty at the Academy of Performing Arts in Bratislava, who managed the whole thing with us and was supportive in every way. It was an unforgettable event, but all the more beautiful, as we could share it together. It was a positive experience.